Dan Walsh is the award-winning and bestselling author of 12 novels, including The Unfinished Gift, The Dance and When Night Comes. He has won 3 Carol Awards and 2 Selah Awards. Three of his books were finalists for Inspirational Book of the Year. Dan is a member of ACFW and Word Weavers. He lives with his wife, Cindi, in the Daytona Beach area where they love to take long walks. Click here to connect with Dan or check out his books.
* * *
People who've read and enjoyed my books often ask me, "
Where do you come up with
your stories?
" It's kind of hard to say. I don't really have a system. If asked to teach a class on this, I'm not sure there's a 1-2-3 methodology I could present. I have 12 novels out now, 2 more completed and releasing in 2015, and 3 more "in the oven." Beyond those, I have at least a half-dozen other stories roughed out that may or may not become future books.
If I could narrow it down to something explainable, I might say it has something to do with paying particular attention to things going on all around you, being especially aware of things that tug at your heart or captivate your emotions. Cultivate the habit of looking beyond what everyone else is seeing or chatting about–the things that come and go in a matter of moments–for those things that have greater value.
The things that matter more, or matter most.
To illustrate, during and after last weekend's Super Bowl (which was an amazing game, IMO), I became aware of 4 such stories in the midst of all the festivities:
The Chris Matthews Story
– before the New England Patriots sealed their 28-24 victory
over the Seattle Seahawks, Chris Matthews had become the star of game. The former undrafted wide receiver who joined the Seahawks late in the season had never caught a pass in the NFL before Sunday. On Sunday, in at the Super Bowl, he caught four. Those four receptions went for 109 yards and a touchdown. More importantly, they sparked a much-needed change in momentum in the Seahawks' favor. Had they not lost the game he might have been named the MVP. Prior to this season, Matthews had worked as both a security guard and at Foot Locker.
The Malcolm Butler Story
– the young man who made what is being called one of the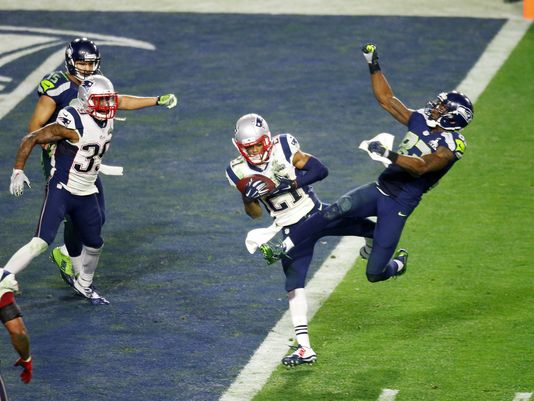 greatest plays in Super Bowl history this past Sunday, Malcolm Butler, is in reality a 24 year-old undrafted rookie. He wasn't even on the field when the teams first huddled for the game-winning play; he was a last-minute substitution. He had come to the Patriots from a little-known college in Alabama, working the whole time doing late shifts at Popeye's chicken. While the now-historic play on Sunday may have been a terrible call for the Seahawk's coach, it was an excellent pass from the Seattle quarterback. The rookie Butler simply outplayed the far-more experienced Seahawks's receiver, Lockette. Butler read the play perfectly and zeroed in on the exact spot he needed to be to get to the ball first. He caught it. The Patriot's won the Super Bowl, and the Seahawks' lost. Game over.
The Russell Wilson Story
– The Seahawks' quarterback who threw the pass that led to
the game-losing interception on Sunday, Russell Wilson, showed a lot of class and character in the after-game interview. Wilson is only in his 3rd season in the NFL. Already he's won more games than any other quarterback so new in his career. And here he was, on the verge of leading the Seahawks to back-to-back Super Bowl victories. Moments before that now-infamous pass, he had brought them to within 1 yard of the goal line. To everyone watching, victory was certain. Then it wasn't. Everyone immediately began blaming the coach for the stupid call to pass, rather than run the ball. But not Wilson. He said he'd agreed with the coach and that the blame should rest on him, since he'd thrown the pass. Then he proceeded to commend Tom Brady, his opponent, referring to how well he played, not just then but throughout his career. He began to run through a litany of people and things he was thankful for, and ended by saying he hoped to grow through this and be back next year, ready to win.
The Tom Brady Generosity Story
– After his 4th Super Bowl win on Sunday, Tom Brady
was named the MVP of the game, the third time he's received that honor in a Super Bowl. Winning the MVP brings more than just a trophy. He was instantly given a brand new, shiny red 2015 Chevrolet Colorado truck. I think few people would disagree that Brady earned the MVP title for the way he played, but Brady is already one of the wealthiest NFL players in the nation. I remember thinking, "Well, there's someone who probably doesn't need another expensive vehicle in his life." But Brady shows what kind of man he is by deciding not to keep the truck himself, but to give it to the rookie cornerback on his team, Malcolm Butler, the young man who made the game-winning interception. Brady said in a radio interview shortly after the game, "I'd love to give Malcolm the truck. We're going to figure out how to make that happen."
See? With just a little effort, I came up with 4 great stories from a Super Bowl game. Great stories–the kind all of us can relate to–are all around us. We just have to keep our ears and eyes always on the lookout for them.
I'd love to hear how you came up with some of your favorite stories.